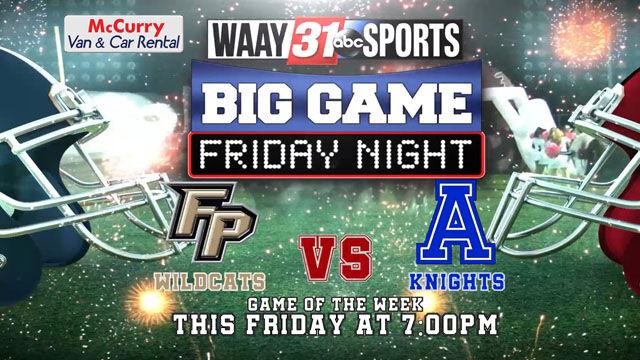 WAAY 31 Big Game Friday Night's Game of the Week for Week 5 is Fort Payne (3-1) vs. Arab (5-0).
Though no longer region foes, battles between the Wildcats and Knights always bring out the best of both squads, and those talents will be on full display Friday night.
"You want to play somebody ... that will be a challenge for you and make your kids play fundamentally sound football, and make your kids play physical football, and Arab's gonna demand that of you," Wildcats head coach Chris Elmore said. "If you don't do that, they'll expose you, like they did to us last year."
Elmore knows just how dangerous Arab can be, and it seems everyone else will soon. The Knights are off to a 5-0 start for the first time since 1949. Head coach Lee Ozmint has watched this group grow up, and now, with a senior-led squad, he said his guys have really gelled together this season.
It's showing on the field, he said.
"When that light finally comes on, it's a blessing to everybody that's involved, and the light has come on for this group and they're playing to their highest and best level right now," Ozmint said of his squad.
This matchup has historically gone Fort Payne's way, with the Wildcats winning 20 of their 31 meetings. But things changed last year when Arab handed Fort Payne its first loss since 2004.
"We're ready to just play again, to be honest with you — no matter who it is. So I think that's probably more important to us than necessarily what happened last year," Elmore said of the focus this week.
And in a meeting between two guys who know each other well, both coaches expect this will be a hard-fought affair.
"I know how they're gonna play, and I know how they're gonna come in here, and they're gonna come in here expecting to win. They're gonna come in just like we are," Ozmint said. "We're coming in expecting to win. But we know that we can lose."
We'll see what happens this year on Friday night in Arab.