Right now is the time to start getting prepared for the severe weather threat this afternoon. All counties included in the Storm Prediction Centers Level 3 Risk, meaning the chance for numerous severe thunderstorms is possible into the overnight hours.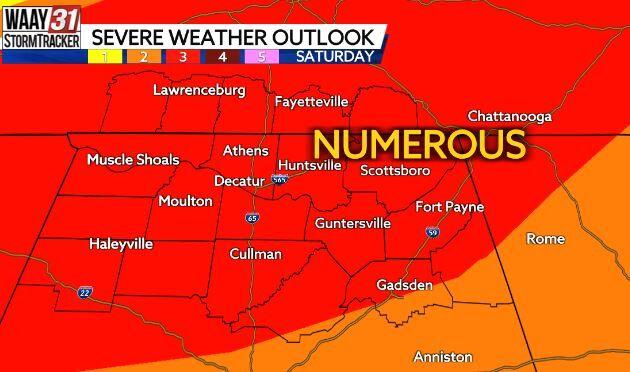 A few showers possible throughout the day, but other than gusty winds it is calm and unseasonably warm outside.
Gusty winds will stick around throughout the day as we head into the severe weather window. All of North Alabama is under a Wind Advisory until 9 p.m. with gusts expected to get as high as 40 mph. 
Before the cold front moves through later this evening, warm and unstable air will usher into the area, as temperatures warm close to a record high 80. This will only be the initial threat as a cold front moving in from the west will bring us the chance for strong storms late this evening. Right now, still a few uncertainties on just how strong these storms will be, but damaging winds, hail and even a few strong tornados are all on the table.
System is set to move in west to east, with the earliest arrival time around 4 p.m.
Scattered showers possible once this system moves out of North Alabama late this evening, but be prepared to notice some big changes as we end the weekend. Highs tomorrow only hitting the mid 40's.