Saturday morning brings scattered rain for many of us to wake up to. Northern counties will be dry by late breakfast time while our southern counties will keep showers until lunchtime. Wake-up temperatures are 10-15 degrees warmer than where we were this time yesterday. Saturday high temperatures will reach to the low 60s.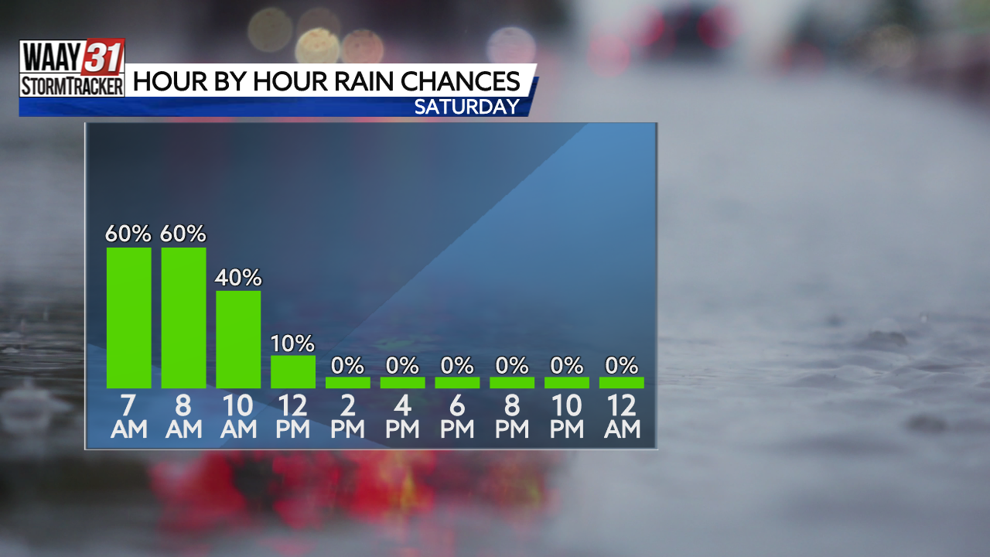 After the rain clears out, we will be dry for the rest of the evening but will keep a thick layer of cloud cover overhead for the remainder of the weekend. If you're headed out and about on Saturday afternoon or evening or on Sunday, you won't need the umbrella but for breezy conditions with overnight lows in the upper 30s Saturday night and low 40s Sunday night.
Each day this work-week brings strong chances for rain and showers so don't stuff the umbrella away just yet, you're going to need it again soon.
We are tracking the potential for heavy rain next week when another frontal boundary stalls nearby on Monday. After 2 to 4 inches of rain from earlier this week, some of us will get an additional 3 to 5 inches over the next seven days.
SATURDAY: Morning showers, then cloudy but dry. Highs in the low 60s. Chance of rain: 70%. Wind: SW at 10-15 MPH, GUSTING 20.
SUNDAY: Mostly cloudy and cooler. Spotty afternoon showers. Highs in the low 50s. Chance of rain: 10%. Wind: NE at 10 MPH.