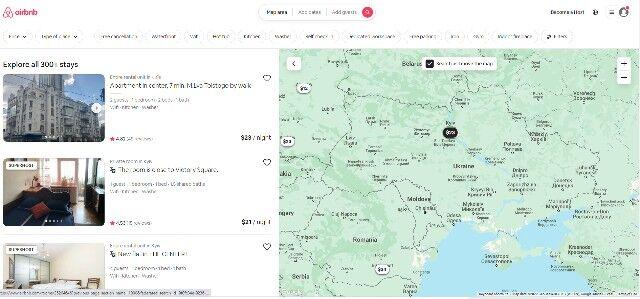 People from all over the world are booking Airbnbs in Ukraine to help those impacted by the war.
Airbnb told WAAY 31 that more than $2 million has been raised for hosts in Ukraine through those bookings.
A Madison City School System teacher is among the thousands of people around the world who made a booking. As a mother of four, she says she specifically looked for homes with rooms for kids to help those families in need.
"I have a room booked in Ukraine for next weekend, and then I have one in April as well," Gretta Jordan McDaniel said.
However, she isn't planning on checking in. She just wants to help Ukrainian families impacted by Russia's invasion.
"I had been feeling so helpless as I was following the news," Jordan McDaniel said. "I wanted to do something."
That's when she saw a social media post encouraging people to book an Airbnb in Ukraine and not show up.
"That gets money directly to those families," she explained.
The response she got was overwhelming gratitude.
Serhii in Ukraine replied saying, "Putin is destroying our cities, our homes with people, women, kids in there by bombing from planes and helicopters."
She says she isn't even sure the home booked is still safe. She evacuated with her three children and doesn't have any income — a similar situation another host Maria is in.
"It's something to give to donations to large charity organizations and knowing they're probably doing something good with your money, but it's another to have a face and words coming directly from someone saying 'You have helped me!'" Jordan McDaniel said.
Serhii says she hopes to meet Jordan McDaniel to say thank you and give her a grateful hug. Another host, Iryna, is also inviting her to Ukraine to say thank you for the help.
It's something Jordan McDaniel hopes she gets to do in the future.
"I plan to hopefully have a cup of tea with her when things settle down down there," she said.
As a teacher, Jordan McDaniel says she doesn't have a lot of extra money, but she says the cost wasn't too bad. She says it was about what she would pay to go out to dinner or the movies with her family.
Bookings in Ukraine on Airbnb range and can be as low as $10 a night.
With the growing popularity of this method of giving, scams are more likely to occur. One way you can avoid being scammed is by looking for verified superhosts with good reviews that date back before Russia invaded Ukraine.