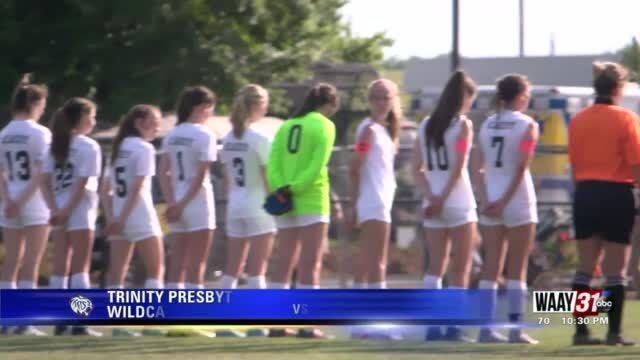 CLASS 4A/5A BOYS' CHAMPIONSHIP
Indian Springs 1, Russellville 0
HUNTSVILLE – Russellville High School uncorked 26 shots in Friday's AHSAA 2022 Class 4A-5A Boys' State Soccer Championship match.
Indian Springs goalkeeper Sims Tosh didn't allow any of them to get past him as his team posted a 1-0 victory over the Golden Tigers at Huntsville's John Hunt Park. Tosh recorded 13 saves to earn the tournament MVP award to lead Indian Springs (21-2-5) to a second straight 4A-5A title.
"Sims is quite simply the best high school-level goalkeeper you're ever going to see," Indian Springs coach Rik Tozzi said. "I was a professional goalkeeper in England. The ball at his feet, his composure, his ability to save, his hands – he's got it all. And he saved us quite a lot this year. It's not the only game."
Indian Springs' Nathan Tozzi scored early in the first half, and Tosh and the defense did the rest to fend off Russellville's hustling Tigers.
Indian Springs defeated Montgomery Academy in a penalty-kick shootout Thursday night in a game that ended about 9 p.m. Less than 24 hours later, Tozzi's team was back on the field chasing another state title.
To nurse the 1-0 lead, Coach Tozzi said he changed his formation to what he called a "Christmas tree" in the second half to combat his team's fatigue. That, in turn, allowed Russellville to attack again and again.
Each time, Tosh turned away the Golden Tigers.
"We were winning the big balls in the air. We were challenging hard to every ball and just being the first one there every time," Tosh said. "I'm just trying to play my game."
Indian Springs has now won five boys' soccer state titles, but this is the first time the school has done it in consecutive seasons.
"It's a real testament to the character and intelligence of my guys," Rik Tozzi said.
Russellville (20-3-1), coached by Trey Stanford, fell one win shy of winning its first boys' soccer state title, despite outscoring its opponents 27-4 in five postseason games.
CLASS 4A/5A GIRLS' CHAMPIONSHIP
Indian Springs 5, East Limestone 0
HUNTSVILLE – Indian Springs High School junior Norah Roller arrived at Huntsville's John Hunt Park with a clear goal: "I came into the game thinking and hoping I'd get a hat trick," she said.
Not only did Roller score three goals for the second straight day, she also walked away with a Blue Map. Indian Springs (18-3-2), coached by Justin Pino, earned a 5-0 victory over East Limestone in Friday night's Class 4A-5A girls soccer championship game.
"I just set my mind to it. I was like, 'OK, I'm going to do it,'" Roller said. "I love my team. They support me much and everyone was so excited when I got a hat trick. Yeah, and we're state champions – the first time in 17 years."
Indian Springs won its first girls' state soccer title since 2005, as Chloe Williams and Beth Scarborough also scored goals. Scarborough and Shadie Shrestha had assists. The Indian Springs boys won a second straight 4A-5A title earlier Friday.
Indian Springs worked double overtime to beat Saint James in Thursday's girls semifinals with Roller scoring the game-winner. Against East Limestone, Scarborough scores less than three minutes into the game, and Roller scored twice in the first half to make sure no heroics would be needed.
For East Limestone (20-4-0), coached by Blake Tucker, goalkeeper Emma Hines recorded six saves. The Indians fell one win shy of winning its first girls soccer championship game.
CLASS 1A/3A BOYS' CHAMPIONSHIP
Bayside Academy 1, Collinsville 0
HUNTSVILLE – Bayside Academy's Ty Ferguson scored a goal with an assist from John Will Kirkland Friday night at 72:27 in the AHSAA State Soccer Championships' Class 1A/3A Boys' finals. It was the only goal either team could muster as the Admirals (21-3-5) of Coach Jamie Ferguson downed Collinsville 1-0 to win in the state crown.
It wasn't for lack of trying, however.
Both teams hustled from the get-go and until the final buzzer in what turned out to be a very intense, exciting soccer final between two well-matched teams.
Bayside took 16 shots, 11 on goal, and made the one as Panther goalkeeper Jinen Shukal registered 10 saves on the night. Collinsville (19-8-0), coached by Jeff Stanley, had only six shots but they continued to attack the Admirals defense – but finding few changes to crack their armor.
Ferguson had four shots on goal for the night. Kirkland also had four shots. Jesus Francisco had two shots for the Panthers while four others attempted shots.
The state championship was the third in a row for Bayside, which has four state crowns to its credit since 2016. The Admirals also won the 1A/3A title in 2019 and 2021. No championships were held in 2020 due to the COVID 19 pandemic that spring.
Collinsville has one state championship – winning in 2013.
CLASS 7A GIRLS' CHAMPIONSHIP
Trinity Presbyterian 4, Whitesburg Christian 0
HUNTSVILLE – Trinity Presbyterian senior Katherine Warren scored two goals and the Wildcats defensive did the rest in the AHSAA Class 1A/3A girls' championship match at John Hunt Soccer Park Friday afternoon.
Trinity (16-5-2) rolled to a 4-0 win over Whitesburg Christian to earn the school's third girls' state championship overall and its second in a row. The Wildcats of Coach Analyn Coker have won three of the last four state crowns also winning the Class 4A/5A title in 2018. There was no championship in 2021.
Warren nailed a corner kick she kicked from the sideline some 40 yards into the net to provide the third score of the night. Hastings Avant got the first goal at 6:27 of the opening period. The second goal came 16 minutes later when Whitesburg Christian inadvertently bumped one of its own shots into the Warriors' goal to give Trinity a 2-0 lead.
Whitesburg, coached Julia Houser, managed just one shot on goal. Warriors goalkeeper Anna Looser had four saves. Trinity had 18 shots for the game and eight shots on goal.
The Class 1A/3A Boys' State Championship and Class 4A/5A Girls' State Championship concludes Friday's matches. Classes 6A and 7A will conduct its finals Saturday at 10 a.m., and noon.
Saturday's state finals, as well as all 11 of the other boys' and girls' championship matches, are being live-streamed over the NFHS Network's subscriber-based network. The Huntsville Schools ETV team headed by producer Jonathan Crowe will be producing all championships.
CLASS 7A BOYS' SEMIFINALS
Oak Mountain 1, Huntsville 0 (OT)
HUNTSVILLE – Oak Mountain High School is heading to Saturday's Class 7A boys soccer state championship game, thanks in big part to sophomore midfielder Aiden Riley.
Riley's goal came at 1:59 in overtime. It was the lone goal of the match lifting the Eagles to a 1-0 victory over Huntsville in Friday's AHSAA State Soccer Championships Class 7A boys' semifinals at John Hunt Park in Huntsville. Oak Mountain (18-4-5) advances to play Daphne, a 4-2 winner over Davidson, in the other semifinal in Saturday's championship game at noon.
Oak Mountain is trying to win its eighth boys' state soccer title, but its first since 2017. Huntsville (19-4-3) was chasing the school's first boys' soccer championship.
Defense dominated for Oak Mountain and Huntsville in the semifinal thriller, as Eagles goalkeeper Adam Alemond had three saves and Huntsville goalkeeper Harrison Shiner tallied four saves. Each team had nine shots in regulation, and Riley's goal was the first shot of overtime.
Saturday's state finals, as well as all 11 of the other boys' and girls' championship matches, are being live-streamed over the NFHS Network's subscriber-based network. The Huntsville Schools ETV team headed by producer Jonathan Crowe will be producing all championships.
CLASS 6A BOYS' SEMIFINALS
Mountain Brook 2, Fort Payne 0
Mountain Brook High School's Reed Harradine pitched another shutout Friday as the Spartans moved to the Class 6A state finals with a 2-0 shutout over Fort Payne Friday at John Hunt Soccer Complex.
For the Spartans (24-2-2) of Coach Joe Webb, the shutout was the e 18th of the season – and a big reason has been the play of Harradine. The Wildcats (15-8-2) had three shots on goal in the semis and Harradine had three saves.
Fort Payne's defense was also difficult to penetrate. Mountain Brook midfielder Jack Heaps scored the Spartans' first goal at the 51:07 mark in the second half. Henry Tabb got the assist. Finn Calloway the final goal at 65:46 for all the insurance his team would need.
The Wildcats, coached by Michael Farmer, limited Mountain Brook to just seven shots on goal with keeper Luis Barrientos notching five saves.
Mountain Brook will meet Pelham ((23-3-1) in Saturday's finals. The Spartans are seeking their first state title and Pelham has one (2017).