You may have heard that some of our areas are expecting a wintry mix overnight and into the early morning hours Thursday, but what does that mix entail? 
In this week's "Anello Answers It," we'll talk about our four main precipitation types and how we get each type.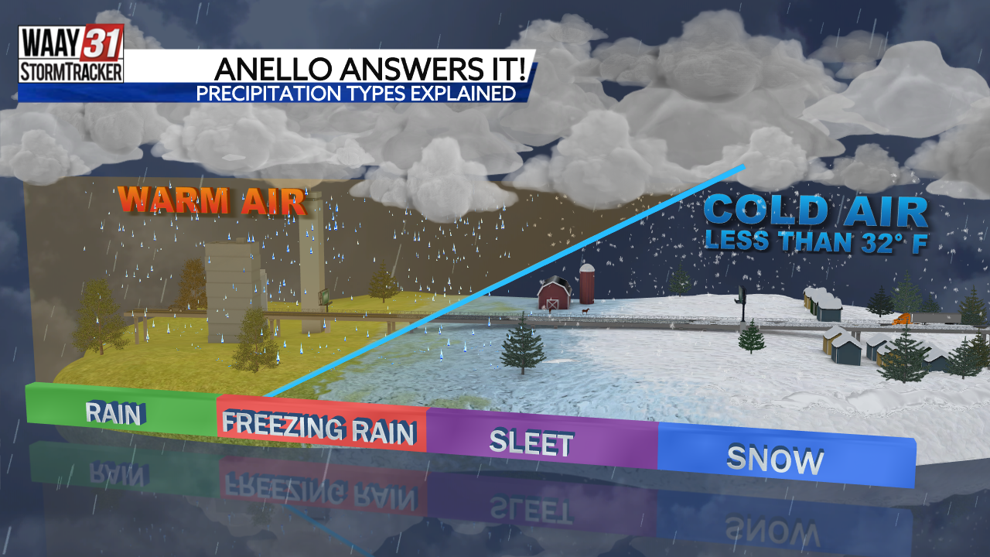 Let's start with rain and freezing rain. Rain, of course, is when we have precipitation that both forms and falls through air that is always warmer than 32 degrees Fahrenheit.
Freezing rain occurs when rain falls from the clouds through warm air. The big change occurs when this rain reaches air that is below freezing in temperature closer to the surface. This forces the water to become "supercooled," which means it still falls as liquid rain drops but instantaneously freezes to ice upon impact with power lines or roads.
Snow, meanwhile, falls when water freezes inside the cloud and stays frozen all the way to the surface.
Sleet occurs when water freezes inside the cloud but, as it falls towards the surface, it passes through warmer air. This gradually melts the exterior of the mini ice cubes, leaving us with ice that is covered in a watery glaze coating.
However, the ice pellets then encounter freezing air yet again and refreeze. This leaves us with a partially melted, small granule of ice that bounces upon impact with the surface. 
As we look at the temperatures we are expecting overnight Wednesday, some higher elevations in North Alabama can expect to see trace amounts of all four components in the wintry mix.
Got a weather question you want answered? Email ganello@waaytv.com!
Find more episodes of "Anello Answers It!" here.