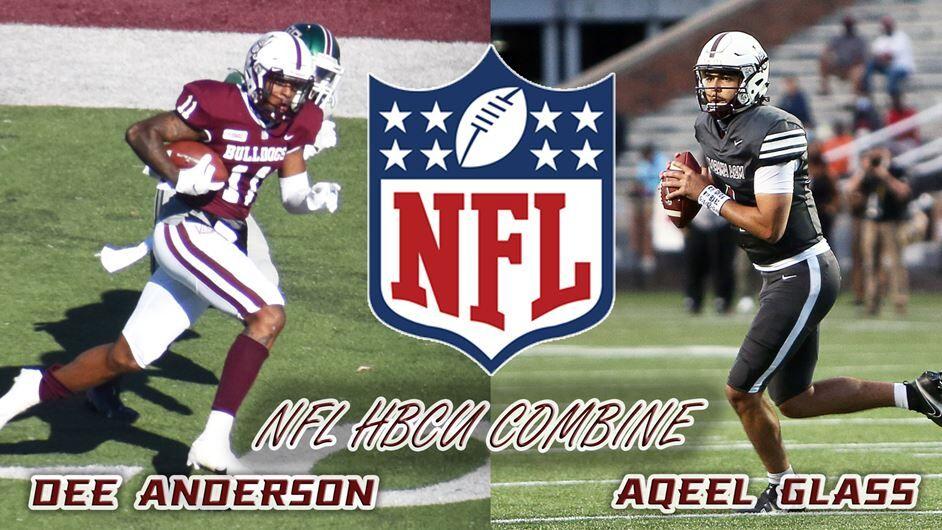 NEW YORK, N.Y. – Following tremendous careers, and particularly impressive Fall 2021 seasons, Alabama A&M graduate quarterback Aqeel Glass (St. Louis, Mo.) and senior wide receiver Dee Anderson (Dallas, Texas) are among just 40 individuals to be selected to participate in the 2022 NFL HBCU Combine.
In partnership with the Senior Bowl, the event will run from January 28-29 at the University of South Alabama Jaguar Training Center in Mobile and is designed to provide an opportunity for the top players from the Historically Black College and Universities (HBCU) ranks to showcase their talents in front of National Football League (NFL) decision makers.
One of the top HBCU quarterbacks in the history of the game, Glass will set foot in front of scouts following a career that saw him throw for 12,136 yards and 109 touchdowns – marks that have him in the top 15 of the history of the Football Championship Subdivision (FCS)/I-AA level. His touchdowns tie for 11th all-time while his yardage is 14th and the second highest among active quarterbacks at the level. Both are fourth among Division I HBCU quarterbacks.
A standout throughout his career, Glass brings a bevy of national and conference honors following his five seasons in Huntsville. Among those are three National Player of the Year awards, including the Spring 2021 Deacon Jones Award as the top Black College Football Player and back-to-back BOXTOROW recognitions in his final two seasons.
He also became the first individual in 23 years to repeat as the Southwestern Athletic Conference (SWAC) Offensive Player of the Year, doing so in Spring 2021 and Fall 2021, seasons that also saw him earn that honor in the league's preseason selections.
Glass is also a four-time All-American, earning Stats Perform FCS Third-Team honors this past season along with BOXTOROW First-Team selections in each of his last two campaigns. He was also a BOXTOROW Preseason All-American in Fall 2021. Recognized as one of the top players in the country, he was also a finalist the last two seasons for the prestigious Walter Payton Award representing the top player at the FCS level, finishing 9-of-25 this season and 16-of-25 in the spring.
The NFL HBCU Combine is the second national postseason event he has been invited to, having been the first selection to the Inaugural HBCU Legacy Bowl earlier in the season, and he is on the 2022 Reese's Senior Bowl Watch List. Among the later, he is also a finalist on the Deacon Jones Award Watch List and is on the College Football Performance Awards FCS National Performer of the Year Watch List.
The 6-5 NFL prospect has also garnered major recognition at the conference level, earning back-to-back All-SWAC First-Team honors in 2021 following Second-Team selections in his first two seasons. Those were preceded by First-Team preseason honors in each of the past two years and a Second-Team recognition in 2019. At the media level he was a Spring 2021 Phil Steele All-SWAC Second-Team honoree.
In terms of weekly honors, Glass racked up seven from the SWAC, including six Offensive Player of the Week recognitions and one Newcomer of the Week and four national honors. Three times he was the BOXTOROW National Player of the Week and once for Stats Perform FCS.
On top of that, he led the Spring 2021 team to the first undefeated season since 1966, a SWAC East Division Title, the first SWAC Championship since 2006 and the first ever HBCU National Championship.
In terms of Fall 2021, Glass closed one of the most impressive careers in school and league history with a fitting final campaign, recording 3,568 passing yards, 36 touchdowns and 356.8 yards per game and 160.8 passing efficiency in 10 games.
Capping a career that included more than 12,000 passing yards and 109 passing touchdowns, he recorded five games of at least 400 air yards in Fall 2021, including resetting the program's NCAA Division I Era record twice with 446 and four touchdowns at Grambling (10/2) and 462 with five scores at Texas Southern (11/13). Additionally, he added a pair of games of more than 300 yards passing with four TDs in each.
A significant amount of yardage and touchdowns went to Glass' teammate who will join him in Mobile in the 6-6 Dee Anderson. A former LSU and Oklahoma State wideout, Anderson is being viewed as a tight end at the next level.
That follows a Fall 2021 campaign that saw him realize his potential as he hauled in a team-high 12 touchdowns along with 493 yards on 33 catches, all of which he did in just nine games. At one point he tied for the national lead in receiving touchdowns late in the season before finishing eighth overall, just three behind the leaders who played in 12 and 15 games, respectively.
He was also No. 22 in scoring and No. 26 in total touchdowns nationally while leading the SWAC in both of those categories as well as receiving TDs.
Individually, Anderson delivered three games with three touchdowns, including against Tuskegee (9/25), at Grambling (10/2) and vs. Mississippi Valley State (11/6). The latter would see him snag a career-high seven catches for a personal best 122 yards and he would earn SWAC Co-Offensive Player of the Week on November 8 following that game.
Glass and Anderson are among 32 NCAA Division I players selected to participate while 11 of the SWAC's 12 institutions will have someone in front of NFL scouts in Mobile. Alabama A&M is one of six SWAC schools with multiple selections with Alcorn State earning three and Bethune-Cookman, Florida A&M, Southern and Texas Southern each picking up a pair.
Anderson is the only individual listed as a tight end while Glass will be among six quarterbacks among the 40 selections from the HBCU ranks.
2022 NFL HBCU Combine Participants
Dee Anderson, TE, Alabama A&M
Aqeel Glass, QB, Alabama A&M
Ezra Gray, RB, Alabama State
Felix Harper, QB, Alcorn State
Juwan Taylor, DS, Alcorn State
Solomon Wise, OLB, Alcorn State
Josh Wilkes, WR, Arkansas Pine-Bluff
KeShawn Williams, RB, Arkansas Pine-Bluff
Untareo Johnson, OLB, Bethune-Cookman
Jamal Savage, OT, Bethune-Cookman
Trey Gross, WR, Delaware State
Kwannah Kollie, WR, Delaware State
Elvin De La Rosa, DS, Fayetteville State
Keyshawn James, DE, Fayetteville State
Antwan Collier, DS, Florida A&M
Keenan Forbes, OG, Florida A&M
Shemar Bridges, WR, Fort Valley State
James Fagan, DT, Hampton
Jett Duffey, QB, Hampton
Keith Corbin, WR, Jackson State
Kingston Davis, RB, Miles
Jerry Garner, OLB, Mississippi Valley State
Juwan Carter, QB, Norfolk State
Chris Myers, OLB, Norfolk State
Korey Banks, WR, North Carolina A&T
Ron Hunt, WR, North Carolina A&T
Jah-Maine Martin, RB, North Carolina A&T
Jawon Pass, QB, Prairie View A&M
Chad Gilchrist, ILB, South Carolina State
Zafir Kelly, DC, South Carolina State
Will Vereen, WR, South Carolina State
Marquis McClain, WR, Southern
Ladarius Skelton, QB, Southern
Cam Durley, OT, Tennessee State
Cory Rahman, DS, Tennessee State
Jonathan Giles, WR, Texas Southern
Jeff Proctor, RB, Texas Southern
Will Adams, DS, Virginia State
Javon Frazier, OLB, Virginia State
Zachary Wilcox, OT, Virginia State