Widespread rain begins to move into northwest Alabama Saturday afternoon and move into the entire region by Saturday night.
Rain will continue through the overnight hours but no winter weather is expected until early Sunday. That's when we begin to see a changeover to rain/snow mix and eventually all snow.
The snow continues through Sunday afternoon before coming to an end Sunday evening.
As we have said all week long, the smallest changes to the track of this storm and the temperatures will play a huge role in how this event ultimately unfolds. We expect the low pressure center to move through between Cullman and Birmingham. But if that track shifts as little as 25 to 50 miles, we could be talking about all rain or much more significant snow depending on which direction it shifts.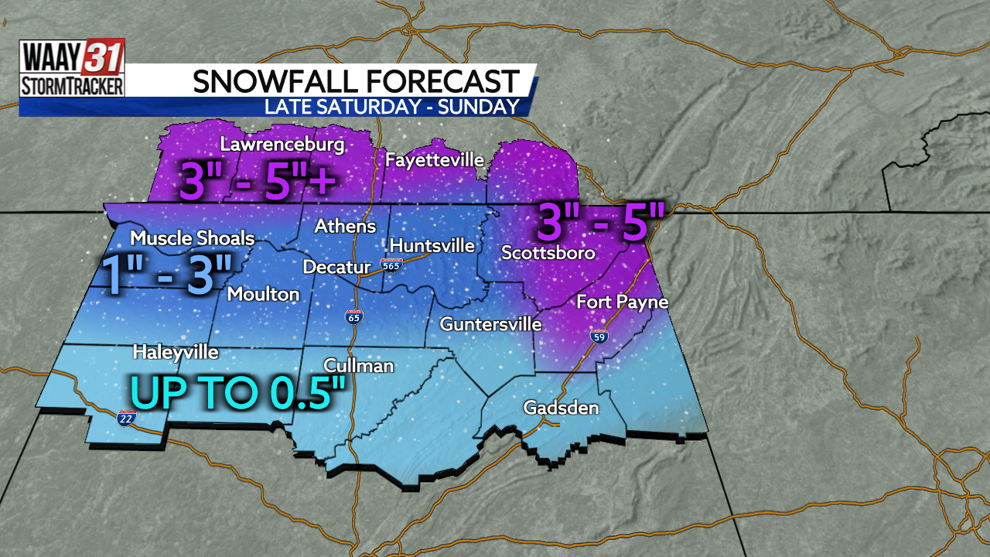 Our greater uncertainty now is temperatures as this system moves through. Data sources are all over the place with just how long it will take us to go below freezing Sunday and if any moisture will still be around by the time we do hit freezing.
With all these uncertainties in play, you will likely see forecast models on social media with very different ideas about how this weekend plays out. Remember that models are simply a guide and not official forecasts.
For now, our official forecast is 1 to 3 inches for many of our Alabama counties (including the Huntsville metro and the Shoals). Higher amounts are expected to our north with 3 to 5 inches for our southern Tennessee counties. Areas near Hamilton, Haleyville, Cullman, and Gadsden will only see up to 1 inch at most (likely less than that).
Keep in mind heavy wet snow will stick to trees and branches. This added weight plus gusty winds may create power outage issues throughout north Alabama.