This Friday was the 79th day of classes at Priceville Junior High School.
It was also Flannel Day, a part of Spirit Week as kids wind down the semester and gear up for winter break. Friday also marked the second week of a new tradition.
"It's just a great time to put smiles on faces," said Jacob Liverett. He's the father of a seventh-grade student at Priceville Junior High.
"We want them to know how important they are to the Priceville area," Priceville Mayor Sam Heflin said.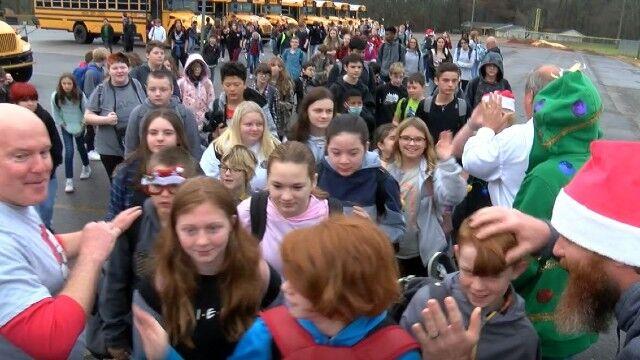 The new tradition, now affectionately known as "High-Five Friday," is run by a group of Morgan County dads. They're stepping up to the plate and doing their part in brightening kids' days.
"We always seem to have the moms on campus," Priceville Junior High Principal Ashley McCulloch noticed.
So, she rounded up the dads.
"(It's) great to meet new kids who I may not have met before because they may not be in sports," Liverett said. "I think we get just as much out of it as they do."
Last week was the first High-Five Friday. Things went so well, the dads decided to make a return this week. This time, greater in number and wardrobe, donning holiday-themed costumes.
"The men were dressed up today — that just made me laugh," Priceville Junior High eighth grader Makayley Draper said.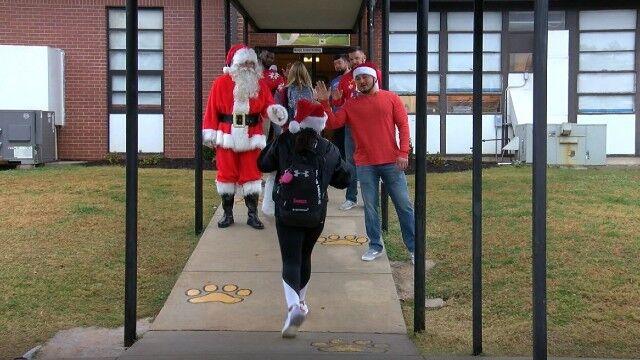 For Draper and lots of other students, mornings can be a real drag. But the dads bring some swag.
"I'm not a morning person, so I'll walk in, it makes me smile, it makes me happy and it just makes my day better," Draper said.
"Fridays can be hard to get up and get here," McCulloch said. "So, encouraging them that Friday is just as important as Monday, come in, have a great day, have a great attitude and work hard."
Twenty dads. Hundreds of students. One goal.
"For the kids, it's always great to have positive role models," Liverett said. "There's so much negative in the world and in the news today; it's nice to have a positive side of it. It really is."
"Say a kid is having a really bad day," Draper said. "They need spirit to boost them up so they can get through their day and they don't have to think about the bad times. They can think about the good things."
McCulloch is the mastermind behind launching the idea at the school. She put out an invitation last week to dads in the community and was thrilled by the response. She said she hopes to make High-Five Friday a weekly event.