Newly hired Nippon Express employees can now receive top industry training because of a partnership with Calhoun's "GOAL" adult education department. 
For Jamie Matthews and Kristan Hicks, working at Nippon Express was a way for the two to finish school while making some bang for their buck.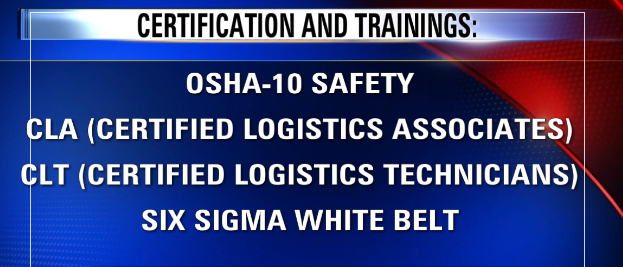 "After taking the program, I decided to make a career out of it," said Hicks, a certified logistics technician. 
It's a 13-day program that eventually earns students a handful of nationally recognized certification and industry trainings at no out-of-pocket cost.
"I've learned a lot since I started (and) with the program we took," said Hicks.
A combination of soft skills and critical thinking, classroom teachings and hands-on training at Nippon Expresses Logistics Center all work to benefit students as they move from the classroom to the workforce.
Nippon Express distributes Mazda model parts to Mazda Toyota Manufacturing, just down the road, and Hicks said they've spent a lot of time loading and unloading the trucks.
Matthews, a warehouse worker, explained that when trucks would arrive, they would grab a scanner, scan the product, wrap the product and stage it.
It sounds like plenty of steps, but Hicks previously worked at Fed-Ex, a similar atmosphere. She said she was a package handler, worked on the van line and worked in a warehouse with computer accessories.
But, skills differed inside the walls of the logistics center.
"It's challenging, it is, but asking questions, I'd give that advice to the next" person, said Hicks. 
Despite the challenge, Hicks knew she could do it and make a career out of it. Her new role is a stepping stone to open more doors for herself. 
"I just wanted a better opportunity," said Hicks. "I'm going to try and go to school to get my bachelors in supply chain and logistics."
Nippon Express will have a new class of hirees starting Feb. 7 and will send students through Calhoun's GOAL program at the logistics center.