Right now, police are warning of an increase in coyote sightings within residential areas.
Much of Madison County is home to new retail sites and homes. Demolishing woods to make room is displacing many wildlife animals.
On Tuesday, a coyote was found on Monte Sano, close to many homes, schools and businesses.
Although you may spot more wildlife, that doesn't mean the animals are necessarily dangerous.
"Just avoid it. Mostly, they're scared of humans," said Dustin Cobb, owner of Alabama Wildlife Services.
Cobb's mission on Wednesday was getting a mother raccoon with babies out of an attic in a Madison County home.
"You know, we took away their habitat," said Cobb. "They're going to adapt and move in to our neighborhoods."
No matter the critter or creature, Alabama Wildlife Services is seeing more calls and concerns over foxes, coyotes and raccoons.
"It's pretty normal," said Cobb. "I get a lot of calls."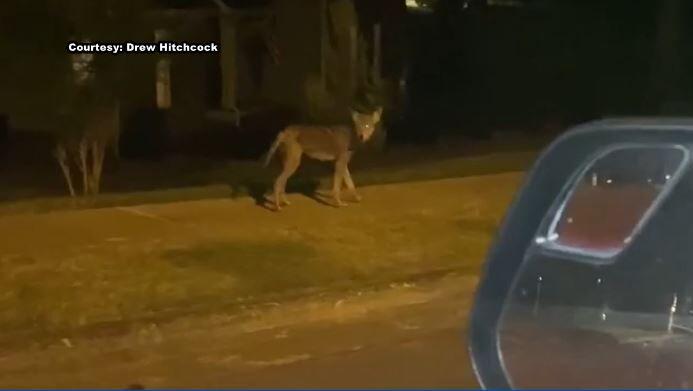 Many coyotes are just on the search of something to eat.
"So, this time of year, they've got a litter and they're feeding, so they need more food than usual," said Cobb.
More food means coyotes may be preying on small animals, like cats and dogs. People are not as much of a threat.
"Cats and dogs may be a target if there's not enough food there," said Cobb.
It's important to keep your pet and their food out of reach.
"Don't overfeed your animals so there's something left for other animals to come in," said Cobb. "If there's a good food source there for coyotes and foxes, you're going to have more sightings."
Madison Police are stepping up to alert their residents of coyote sightings, from Hughes Road to developments behind Toyota Field.
"With the explosive growth in retail and housing, we're bound to see an increase in this wildlife," said Capt. Lamar Anderson with Madison Police.
Police also urging the community to not use a firearm to kill the animals.
"They are not a protected animal, but we do however have an ordinance in place here in the City of Madison: No discharging guns," said Anderson.
Although you can call police or wildlife services, they won't trap or remove a coyote unless it's injured.
"We like to use a lot of habitat modifications — you know, fixing areas where they can come in, and try to change some of the bushes and things so they don't have hiding spots," said Cobb.
Coyotes should be harmless to people, but if they show aggression, Cobb said you should yell or attempt to scare them off.
If you spot one on a trail or in your neighborhood, just turn around and walk away. Do not run.
If you have an ongoing issue with wild animals by your home, Madison Police asks that you contact the Alabama Department of Conservation and Natural Resources.